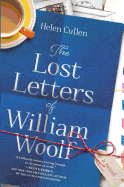 William Woolf had grandiose plans to write a great English novel. When he and his wife, Clare, fell in love in college, they envisioned a future pursuing their passions--literature and art, respectively. But as the years went by, Clare, who has always sought stability, became a lawyer to help pay the bills. And as she's risen in her profession, William has stagnated in his. For more than a decade he's worked at the East London Dead Letters Depot, trying to decipher the mysteries of mail gone awry.
William finds the work fascinating, but Clare resents his lack of ambition. He spends his day sifting through mail, working with oddball characters and casually reading bits of other people's lives. His not-so-lofty goal of reuniting people with their poorly addressed parcels is finally interrupted when his passion is sparked by the discovery of a series of letters addressed simply to "My Great Love." The content of these letters sends William on a journey that will change his and Clare's lives irrevocably.
Gently paced and focused deeply on William and Clare's motivations, The Lost Letters of William Woolf is a story of love lost and found; both the tale of a failing marriage and the finding of romance. Helen Cullen's first novel is sure to appeal to anyone who's ever been curious about a letter gone astray, and readers who have found themselves surprised by the direction their life has taken. --Jessica Howard, bookseller at Bookmans, Tucson, Ariz.