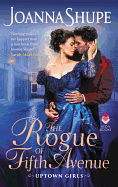 The lure of forbidden romance, the divide between wealth and poverty and the struggle for women's rights in 1890s America drives The Rogue of Fifth Avenue, the first entry in author Joanna Shupe's Uptown Girls series. Daughter of a powerful New York City financier, Mamie Green wants more from life than the arranged society marriage her father has decreed. Her search for a fulfilling way to occupy her days leads her to become benefactor to several poor families living in a tenement. At night she dons designer gowns and frequents gambling houses, where she fleeces men to finance her good deeds.
Lawyer Jack Tripp solves problems for his wealthy clientele--and when he discovers the daughter of an important client recklessly frequenting gambling clubs, he sets out to nip the incipient scandal in the bud. What he doesn't anticipate, however, is that exposure to beautiful Mamie will threaten his carefully structured life. Jack has secrets, and pursuing the attraction that smolders between them threatens everything he's fought to attain.
When Mamie asks for Jack's legal help on behalf of an abused tenement wife, he can't refuse. A romantic relationship is absolutely forbidden by all aspects of Mamie and Jack's social stations. Nonetheless, they can't stay away from each other and every clandestine meeting threatens exposure and subsequent scandal. Will they manage to resolve what appears to be an impossible situation?
Shupe creates a fascinating picture of life in early 1890s New York, well-seasoned with a liberal helping of sexual tension, fascinating characters and an intriguing, well-drawn plot. This excellent start of a new series is certain to delight fans of historical romance. --Lois Faye Dyer, writer and reviewer