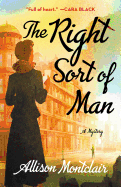 It's 1946, and the Right Sort Marriage Bureau is open for business. Iris Sparks, who until recently worked for the British government (she just can't say exactly what she did), and Gwendolyn Bainbridge, an upper-class widow who lost her husband during the war, have teamed up in a matchmaking venture.
Business is booming for Iris and Gwen--until one of their clients turns up dead. Gwen and Iris are sure that Tillie La Salle's death has nothing to do with their perfectly respectable marriage bureau. But they can't have the police nosing around, scaring off future clientele, so Iris boldly begins an investigation of her own, with some reluctant assistance from Gwen.
The Right Sort of Man is a fantastic historical romp. It mixes the bureau's various clients in search of their perfect spouse with an intriguing case that takes the two women into the underworld of stocking smugglers and other criminals trying to get around strict postwar rationing. Gwen's tragic past and Iris's vim make them a delightfully unusual pair, adding humor to the way they investigate. But when Iris goes undercover, posing as a friend of Tillie, things quickly become dangerous for the ladies of the marriage bureau. Fans of Jacqueline Winspear or Rhys Bowen will love The Right Sort of Man. This is the first novel by Allison Montclair, and she has created a charming and insightful pair of detectives that will hopefully be featured in many more books. --Jessica Howard, bookseller at Bookmans, Tucson, Ariz.