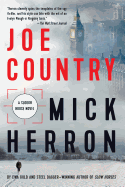 Though Joe Country is Mick Herron's sixth novel in his Slough House series, set in Britain's intelligence community, it stands on its own. Newcomers need not be familiar with the previous books, but this installment is so taut and witty, fans will be eager to go back and read from the beginning.
The story opens with an owl screeching out of a burning barn with wings aflame, kamikazeing into the nearby woods. The two people who torched the barn wonder if the trees will catch on fire. They're not arsonists. Nor do they hate birds or barns. They were just disposing of two dead bodies.
The narrative goes back in time to introduce two vastly different factions of London's MI-5. The first is Slough House, where failed agents--referred to even by its inhabitants as Slow Horses--are exiled, and the other is Regent's Park, where the important work of protecting England happens. Slough House's Jackson Lamb and Regent Park's Diana Taverner clash in a series of events leading up to those dead bodies in the barn.
Meanwhile, at Slough House, Lech Wocinski is still trying to figure out why he was sent there after he ran a Russian name through a database. Other Slow Horses have agendas, too: Louisa Guy searches for a colleague's missing son; River Cartwright violently confronts a legendary CIA agent at a funeral. How Mick Herron brings all these story lines together is what makes Joe Country an enticing read. --Paul Dinh-McCrillis, freelance reviewer