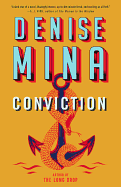 In Conviction, Denise Mina (Field of Blood, The Long Drop) has created a wonderful mystery that blends true-crime podcasts, Twitter celebrities and international conspiracies. Mina captures the podcast vibe with precision, even down to the annoyingly repetitive ads from sponsors, and the medium's aficionados are sure to love this twist on a standard thriller.
Anna McLean is an upper-class Edinburgh housewife who loves listening to true-crime podcasts. One day, as she is listening to a new one, she realizes that the murder victim is connected to her former life--the life she's been at great pains to hide from her husband, Hamish. Then Hamish abruptly announces he's leaving Anna for her best friend, Estelle, and sets out on vacation with their daughters and the new woman. Reeling, Anna fears she can't sue for custody due to her unsavory past, when Estelle's husband, Fin, shows up at the door.
Fin is a famous former rock star, and a nosy neighbor posts a picture of Fin and Anna on Twitter. Suddenly thousands of people have recognized Anna, and with her cover blown, she and Fin set off on a crazy road trip into Anna's former life--binge-listening to the podcast as they go.
As the story unfolds, the reader realizes why Anna has gone into hiding and why so many people want her dead. The twists that follow become even more engaging. Told in alternating chapters that include the murders covered in the podcast and what's happening with Anna and Fin's hectic journey, Conviction is an irresistible story. --Jessica Howard, bookseller at Bookmans, Tucson, Ariz.