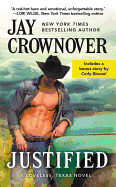 Jay Crownover (the Marked Men series) starts her first Western series with Justified, which takes place in the imaginary town of Loveless, Tex. New sheriff Case Lawton and attorney Aspen Barlow--childhood friends and now adult enemies--must put aside their animosity when someone breaks in and vandalizes Aspen's office.
Aspen was assigned to represent Case's ex-wife in a divorce that cost him several years of custody of his only son and destroyed the friendship between Case and Aspen. Representing victims of domestic violence and the wealthy alike, Aspen has earned herself a long list of enemies, which makes it all the more complicated for Case to sort out the threat to her life.
When someone sets fire to her home and she's attacked her while leaving the hospital, Aspen moves in with Case so that he can protect her. This proximity forces the two to sort through their baggage and address the sexual tension between them. Crownover excels at balancing the romantic part of the story with the suspense elements. The result is a heart-pounding narrative that readers will be compelled to finish quickly.
The romance unfolds as a slow burn ("I was kissing her the way you kissed someone you loved and hated at the same time. A little sweet, a little mean."), which fits with the enemies-to-lovers premise and the impressive number of times Aspen is nearly killed. Twists and turns abound as this whodunit builds up to revelations that will surprise even longtime suspense readers. --Suzanne Krohn, editor, Love in Panels