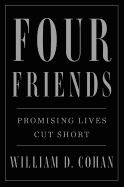 In Four Friends: Promising Lives Cut Short, veteran journalist William D. Cohan (The Price of Silence), a 1977 graduate of the elite Phillips Academy in Andover, tells the stories of four of his contemporaries. Each was prominent in life and died suddenly in his late 30s, or just beyond. As much as it is an account of those tragically brief lives, Cohan's book is a frank meditation on the fragility and preciousness of life at any age.
Of Cohan's four subjects, the most conspicuous, and closest to him, was John F. Kennedy Jr. The young Kennedy lived most of his four decades in the glare of the media spotlight. At the time of his death in July 1999, he was engaged in two fierce struggles: one to right the fortunes of his foundering political magazine George and the other to save his failing marriage to Carolyn Bessette. Cohan recounts both of these grim stories in intimate detail.
Two of Cohan's other subjects--lawyer Jack Berman and lawyer and businessman Harry Bull--had assembled the sort of gleaming résumés and early career accomplishments that foretold lives of professional eminence and material comfort. Will Daniel, the final member of Cohan's foursome, struggled with the notoriety of being the grandson of President Harry Truman, but by all accounts was a compassionate social worker and a loyal friend.
The tragic deaths of Kennedy, Berman, Daniel and Bull are a reminder, Cohan writes, that "Not even those who have every privilege that life offers, right from the start, can escape the inevitable." --Harvey Freedenberg, freelance reviewer