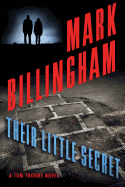 At the start of Mark Billingham's Their Little Secret, Detective Inspector Tom Thorne and his partner, DI Nicola Tanner, look on as pieces of Philippa Goodwin's body are scraped off train tracks and sent to the morgue. CCTV footage shows Philippa leaping into the path of an oncoming train in the London Underground, and the police consider it a suicide.
Thorne and Tanner notify the deceased's sister and niece, who claim the person responsible is Patrick Jennings, a man who seduced Philippa before vanishing with all her money. The two women don't deny she jumped, but they insist Jennings drove her to it.
Philippa's death is now deemed to involve fraud, so Thorne and Tanner hand the case over to the proper department. But then Jennings's DNA, collected at Philippa's house, matches DNA found at a murder. Camera footage reveals only the victim and an older woman, no Patrick Jennings. The detectives come to realize they're chasing a man-and-woman killing team.
Thorne and Tanner are formidable characters, but Billingham allows them their frailties. Thorne's girlfriend has kicked him out of her flat, and he wrestles with whether or not that's a bad thing. Following the brutal killing of her previous partner, Tanner experiences intense guilt over her and Thorne's complicity.
Billingham (Bloodline) refers to an incident from a previous book as the cause of tension in the detectives' working relationship, but those allusions don't distract from the enthralling, twisty story, with its smartly cohesive style and gallows humor. --Paul Dinh-McCrillis, freelance reviewer