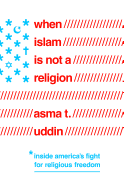 When Islam Is Not a Religion by Asma T. Uddin offers a bold exploration of Islam's legal place in U.S. society, as well as a deeply personal glimpse into one American family's Muslim faith. As an attorney devoted to protecting the religious liberties of all Americans, Uddin draws on her legal experience to examine why this constitutional right is not available equally across all faiths, specifically Islam.
Uddin was on the legal team that represented the owners of crafts chain Hobby Lobby in Burwell v. Hobby Lobby (2014). She feels confident asserting that, had Hobby Lobby been owned by a Muslim family asserting its religious freedom rights instead of a Christian family, the conservative majority on the Supreme Court would likely not have ruled in its favor. Concerned about raising her children in a climate of mistrust, Uddin is fearless in calling out what she sees as a religious double standard.
In a fascinating chapter devoted to hijab, Uddin reveals that she stopped wearing her head covering because of its politicization in the U.S. She quotes an alarming Air Force policy paper that calls the headscarf a form of "passive terrorism," a refusal to "speak against or actively resist terrorism."
Uddin's efforts to counter ignorance with grace and humility are ever-present in this well-researched first book. She presents the reader with thought-provoking examples of religious persecution that ultimately threaten to compromise the religious freedom of all Americans, not just Muslims. --Shahina Piyarali, writer and reviewer