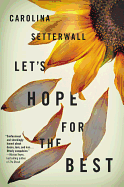 Swedish author Carolina Setterwall tells a moving and emotional story in her first novel, Let's Hope for the Best. The knowledge that Let's Hope for the Best is a fictionalized memoir makes it even more gripping: Setterwall wrote it to her former partner, Aksel, after his death when their son, Ivan, was just eight months old.
The story flashes back and forth between the morning in 2014 when Carolina woke up to find Aksel dead in their bed, and 2009, when they first met at a party. She recalls their slow courtship, with Carolina pushing a more hesitant Aksel a bit, encouraging him to move in together and then to have a child with her. The reader realizes that their relationship is doomed to be short, which invests every argument and loving moment with added meaning.
Setterwall writes brilliantly, with no hesitation about showing her own flaws and the ways that her helicopter parenting affected their relationship, and about the impact of Aksel's death on her and Ivan. American readers will also be intrigued by the mundane details of their life in Stockholm, as Setterwall shares her experiences with everything from breastfeeding to doctors visits and Ivan's preschool cubbies. The deep impact of the book is in its immediacy, the sense that Carolina's shell-shock and grief are so real, and that detailing her life with Aksel allows her create some semblance of normalcy in the wake of his death. Setterwall has created a shockingly real, moving story in Let's Hope for the Best. --Jessica Howard, bookseller at Bookmans, Tucson, Ariz.