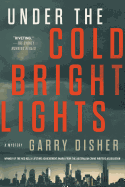 Garry Disher (Kickback, Signal Loss) writes several popular Australian crime series. Under the Cold Bright Lights, however, is a standalone featuring cold case detective Alan Auhl that is sure to appeal to fans of Jane Harper or Ian Rankin.
Auhl shares a large house with his daughter, his ex-wife and several boarders--including a few grad students and a timid woman, Neve, who is fleeing an abusive husband. He doesn't care that his fellow cops make jokes about his age and decrepitude. He just wants to find justice for all the victims.
The cold case department is already looking into a murder from six years earlier--a man found beaten to death near his farm--when a young family in a new subdivision finds a skeleton under the concrete slab in their back yard. They begin investigating "Slab Man," but before they get far, a doctor Auhl is convinced killed his first two wives comes in claiming that wife number three is trying to kill him.
Disher has created a wonderful, believable character in Alan Auhl. His innate kindness and investigative instincts interact in intriguing ways. As the three disparate cases and Neve's custody battle unfold, Disher flawlessly combines the many storylines into a twisty final product that will surprise even the savviest of readers. And underlining it all, the Melbourne setting and the oddball cast of house residents make for an entertaining backdrop to the curious crimes. --Jessica Howard, bookseller at Bookmans, Tucson, Ariz.