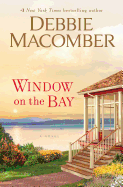 Two Seattle friends--divorcées--are faced with empty nest syndrome in Debbie Macomber's Window on the Bay.
Jenna and Maureen met as college freshman while taking a French class and became best friends. They vowed that after graduation, they would take a trip to Paris where they would "walk in the moonlight along the Seine, tour the Louvre, and see the view of the city from the Eiffel Tower." Maureen's unplanned pregnancy, however, forced the friends to defer their plans to "someday."
Over the years, Jenna, an ICU nurse, and Maureen, a librarian, married, had children and divorced. Throughout 20 years of ups and downs, the two single moms emotionally supported each other. Now middle-aged--with their children grown and launched--Jenna and Maureen decide "someday" is now. Paris awaits. That is, until Jenna's mother has an accident that brings an attractive male surgeon into Jenna's life. Meanwhile, Maureen catches the attention of a book-loving plumber who, working near the library, starts paying Maureen visits in search of new reading material. The two women, bruised by the past, are leery, but soon become lured by the prospects of new love. But what about Paris?
Macomber (Cottage by the Sea, If Not for You) unspools several tender, romantic story threads. Through a refreshing role-reversal, the young adult offspring of each woman--with complications in their own lives--prove sources of unexpected wisdom to their mothers on the brink of change. --Kathleen Gerard, blogger at Reading Between the Lines