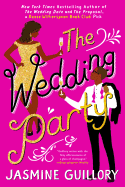 In her first novel, The Wedding Date, Jasmine Guillory introduced Alexa, an attorney who works for the mayor of Berkeley, Calif. Alexa has two best friends: Theo, who works with her in the mayor's office, and Maddie, a stylist she's known since childhood. The problem is that Maddie and Theo hate each other. But for the sake of Alexa, they've muddled along.
One night, a little too much to drink at a party accidentally leads to a sexy night together, and Maddie and Theo realize that they're very physically compatible. But Maddie still thinks Theo is uptight, and he still finds her frivolous. When Alexa gets engaged and asks Maddie and Theo to be her bridesmaid and "bridesman," they realize they're going to have to spend a lot of time together. So they decide to have a fling, no strings attached, that will end as soon as the wedding is over. As they accompany Alexa for cake testing and wedding dress shopping, they keep sneaking off to be together. But they're convinced that since they don't actually like each other, they can't tell Alexa, and they can't be together permanently. Or can they?
Jasmine Guillory has nailed the sexy but quarrelsome tension between Maddie and Theo. Effervescent and smart, The Wedding Party is a romance for people who think they don't like romances. Cameos by other characters from The Wedding Date and The Proposal make The Wedding Party shine, as does the diverse cast of characters and the witty dialogue. --Jessica Howard, bookseller at Bookmans, Tucson, Ariz.