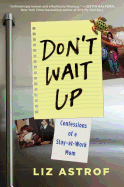 Liz Astrof is an executive producer and sitcom writer, plying her trade on several hit shows (The King of Queens; 2 Broke Girls), so it's no surprise she has an exceptionally funny and charismatic voice. Sadly, Astrof's history also lends credence to the theory that great comedy has its roots in tragedy.
Astrof doesn't mine devastation just for laughs. Her candid essays in Don't Wait Up address life's ordeals with acerbic wit, but never reduce her experiences to a laugh track. The humor is there to break the emotional fall, as the pieces run the gamut from farcical--when her family takes on a pet turtle ("The Year of the Turtle")--to mind-bogglingly horrific.
In "Happy New Year," Astrof discovers she had a twin who died in utero. That unbearable notion created a moment of sympathy for her mother, a "hateful, filthy, horrible witch of a woman," only to have her father explain, "Your mother's problem wasn't that your sister died.... Her problem was that you lived."
Whether overtly or latently comical, each essay finds her mother's scarring impact lying in wait, fostering Astrof's "stay-at-work mom" mentality. A demanding career means Astrof doesn't "have to be home for a lot of the bad shit like homework and dinnertime." Jokes aside, she's terrified of messing up her kids. Her writing evidences a deep love and humanity, however squirm-inducing and disconcerting the journey. Written with a sharp pen and an open heart, Astrof's work is heartbreakingly poignant and funny as hell. --Lauren O'Brien of Malcolm Avenue Review