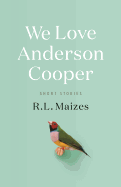 Go ahead and add R.L. Maizes to any list of contemporary short story masters--We Love Anderson Cooper marks the debut of a major literary talent on a par with Lorrie Moore or George Saunders. With this heartfelt and witty collection, Maizes deserves a following equal to that of the real-life Anderson Cooper, the popular award-winning journalist and CNN news anchor.
Each of these 11 stories includes main characters regarded as outsiders within their family or society, and often to themselves. In "Tattoo," an unattractive artist's realistic nipple reconstructions for breast cancer survivors gain him an appreciative clientele. "Better Homes and Gardens" features a laid-off father working as a pizza delivery driver while secretly planning to leave his materialistic family. In "Collections," a woman written out of her longtime wealthy partner's will begins hounding her contractor's clients about overdue bills. Cats and birds substitute for human love in "A Cat Called Grievous," "The Infidelity of Judah Maccabee" and "No Shortage of Parakeets."
Perhaps the most memorable offering is the title story. (If literary awards were given for best first lines, Maizes's brilliantly sharp opening paragraph would be a shoo-in.) Rather than recite a passage from Leviticus during his bar mitzvah, 13-year-old Markus Grunewald sees an opportunity (and potential Internet fame), and uses the occasion to come out as gay. "Why didn't you talk to us first?" his shell-shocked mother says after the stunning declaration. "We would have understood. We love Anderson Cooper."
After finishing this remarkable collection, devotees of short fiction will echo similar sentiments, proclaiming how much they love R.L. Maizes. --Melissa Firman, freelance writer at melissafirman.com