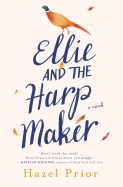 Ellie and the Harpmaker is a lyrically written, delightfully charming story about two strangers--lost souls--drifting through their lives, until a harp brings them together.
Ellie Jacobs is a lonely housewife living in Exmoor, England. She is married to Clive, a pragmatic, domineering man who goes to work every day and is obsessed with football and finance. One day, on a walk through the West English countryside, while reflecting upon the first anniversary of her beloved father's death, Ellie stumbles upon a place she's never seen before: the Harp Barn. There, she meets Dan Hollis, the "Exmoor Harpmaker." Dan takes utmost pride in his work. He also feels the experiences of life very deeply, but exhibits a limited range of expression.
When Ellie shares the special significance of the day with Dan--and how learning to play the harp is actually on her things to accomplish "before-forty list"--Dan kindly offers Ellie a gift: a harp beautifully carved out of red-gold cherrywood. Ellie is overwhelmed and thrilled by Dan's generosity, but her joy is dashed when she returns home and Clive demands she return the harp. Clive's will and Dan's will ultimately pull Ellie in opposite directions. This calls into question her beliefs about herself and her marriage, while also raising inquiries into the many mysteries of Dan's life.
By telling the story from two intimate points of view, debut novelist Hazel Prior allows readers to discover startling truths right along with her well-drawn characters. This approach heightens the narrative tension and allows this beautiful, tender story about the harmonious meaning of true friendship and love to reverberate with many unexpected surprises. --Kathleen Gerard, blogger at Reading Between the Lines.