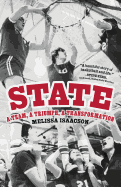 Melissa Isaacson spends the evening before her Niles West High School basketball team's 25th reunion with her parents, both long suffering from Alzheimer's-induced memory loss. As she reconnects with her teammates, they implore her to delve into their own recollections and document the team's story. For more than a decade, she turns her sports journalist's eye to the tale of a remarkable group of girls from Skokie, Ill.
State begins shortly after the 1972 inception of Title IX, prohibiting sex discrimination in federally funded education activities. Isaacson was one of many "tomboys" who wanted to play sports and were running out of patience. Given the opportunity, her teams made spectacular runs at the state championship, ultimately winning it all in 1979, only five years after the school's inaugural season.
State is a treasure trove of personal reporting at the "squeak and rubber" level of shoes on the court. Significantly, looking back as an adult allows a view of the glory days through varying lenses of school, family and societal experiences and traumas that lay hidden under the surface for these suburban teenage girls. Details emerge about the coaches and administrators who fought for and supported them, and parents who sometimes did not.
Isaacson, the Chicago Tribune's first woman columnist and beat writer, artfully shifts voice between youthful naiveté and seasoned veteran. Her pre-game poems have evolved into great storytelling, imbued with warmth and, quite often, hilarity--a testament to the game that shaped the lives of the girls who played it. --Lauren O'Brien of Malcolm Avenue Review