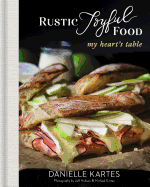 Danielle Kartes begins Rustic Joyful Food: My Heart's Table with the story of the journey that led to its creation: a failed bistro, a saved marriage, the loss and rebirth of her lifelong love of cooking, the often difficult creation of the food-based business, of which the cookbook is one part. Joy is not something Kartes takes for granted.
Kartes is not a trained chef. Self-taught, she is eager to share what she knows with home cooks. Her clearly written recipes include helpful information about techniques (how to remove the skin from a tomatillo) and occasional encouragement (it may take several tries before you season your cast-iron skillet to no-stick perfection).
The recipes in Rustic Joyful Food straddle the line between aspirational and family-friendly: a recipe for a Spanish-inspired braised chicken with olives is followed by a four-page spread on hotdogs, both accompanied by Jeff Hobson and Michael Kartes's beautiful photographs, styled by Kartes herself. The end goal isn't to get dinner on the table quickly, but none of the recipes call for extensive prep time or fussy techniques. She highlights fresh flavors and a range of produce that reflects her home in the Pacific Northwest, but does not call for ingredients that are hard to find outside of large cities or foodie meccas.
The result is a cooking style that is both familiar and creative. And, in fact, the book ends with Kartes's hope that readers will adapt her recipes to make them their own. --Pamela Toler, blogging at History in the Margins