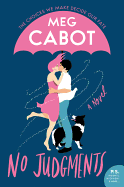 Meg Cabot has published scores of novels for adults and teens that deliver fast-paced fun, romance and comedy. With No Judgments, she begins a lively series for adults set in Little Bridge Island (pop. 4,700). This fictitious small town in the Florida Keys braces for Hurricane Marilyn, a Category Five storm.
Twenty-five-year-old Bree Beckham is a transplant from New York City. Following the death of her father, Bree dropped out of law school and suffered a harrowing assault. Badly shaken and disappointed by the lack of support she received, she dyed her hair pink, changed her name and set off for Little Bridge, once her family's favorite vacation spot. On the island, Bree works as a waitress at Mermaid's Cafe, a local hangout, and shares an apartment with a friendly ER nurse and Gary, Bree's tabby cat.
As the hurricane approaches, Lucy and Ed Hartwell, owners of the Mermaid, offer Bree and Gary refuge from the storm--their sturdy house has a generator--and Bree jumps at the chance. This, despite the fact that Bree's constantly at odds with Drew Hartwell, Lucy and Ed's nephew. He was publicly dumped by his last girlfriend and seems like a "player." Still, Bree hunkers down with the Hartwells. As they ride out the 170-mph winds, and struggle to rescue stranded animals in the storm's aftermath, the attraction between Bree and Drew deepens.
Cabot (The Boy Is Back) has a long, successful track record of writing entertaining stories that allow readers to escape from the realities of life by bringing levity, wit and a host of surprises and happy endings to the page. No Judgments is further testament to her appealing, winning style. --Kathleen Gerard, blogger at Reading Between the Lines