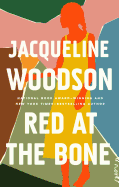 In the opening moments of Jacqueline Woodson's searing, hopeful novel Red at the Bone, 16-year-old Melody lays out the complex relationships among three generations of women. Melody descends the staircase of her grandparents' Brooklyn, N.Y., brownstone for her family's take on a kind of "coming out" party, wearing her mother Iris's previously unworn dress ("Already, when it was time for her ceremony, I was on my way").
Woodson (Another Brooklyn) builds the chapters in her novel like stanzas in a poem, rotating among the characters. Iris, who was 15 when she gave birth to Melody, remains at a distance at first, her chapters relayed through a third-person perspective, as she leaves Melody as a toddler in the care of her parents, Sabe and Po'Boy, to attend Oberlin College in Ohio. Gradually, readers see that Iris needed time to mature, to feed her intelligence, to understand who she is. Only then does Iris at last speak in her own voice.
Iris named Melody after Sabe's mother, survivor of the 1921 fire set by an angry white mob in the Greenwood section of Tulsa, Okla. Sabe's chapters reveal her guilt over her daughter's pregnancy ("all those blocks of gold don't mean a damn thing out in the world if you haven't even taught your own child how to stay pure"). But she stands by Iris and moves them to a new neighborhood, evoking the words of Maya Angelou ("You rise. You rise").
Woodson connects the burned remains of Tulsa that scarred the elder Melody's life with the smoldering World Trade Towers on September 11 that define young Melody's childhood. Each rises from these ashes to survive stronger, smarter, wiser. --Jennifer M. Brown, senior editor, Shelf Awareness