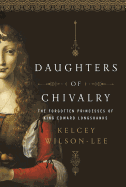 In Daughters of Chivalry: The Forgotten Princesses of King Edward Longshanks, historian Kelcey Wilson-Lee tells the stories of the five daughters of Edward I of England and his first wife, Eleanor of Castile.
Like even the most elite medieval women, Eleanora, Joanna, Margaret, Mary and Elizabeth left a spotty trail in the historical record, most often appearing in official chronicles only in the context of their relationships with the men in their lives. In her first book, Wilson-Lee fleshes out the picture of their lives using a variety of sources--most notably the account records for the various royal households--plus a certain amount of informed speculation.
Wilson-Lee draws portraits of five clearly defined individuals. Joanna, for instance, frequently defied her father and took full advantage of the opportunities accorded to a young, wealthy widow in medieval society. Mary, who entered the convent of Amesbury at the age of six, had a taste for luxury and a gambling habit at odds with her vow of poverty.
At the same time, she places the sisters within the larger context of royal women in the late medieval period, exploring questions of education, marriages (political and otherwise), widowhood, property, travel and political intercession. Like the women she describes, Wilson-Lee never loses sight of the fact that what power these women enjoyed was derived from their relationship to the king, but she fully explores the nature of that power and how they used it. --Pamela Toler, blogging at History in the Margins