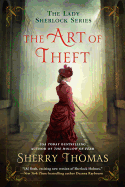 Sherry Thomas (A Study in Scarlet Women, The Luckiest Lady in London) explores Victorian life beyond the borders of London and across the Channel in The Art of Theft, the fourth entry in the Lady Sherlock series.
Charlotte Holmes, reputation besmirched beyond repair, is no longer welcome to lead the life of a debutante in society, so she has begun a detective agency, with the help of her friend Mrs. Watson. But, alas, the Victorian era is no time for women actually to be thinking, so she is forced to solve crimes under the mantle of her fictional creation: Sherlock Holmes.
An old friend of Mrs. Watson, the mother of a maharajah, has begged the help of Sherlock Holmes in stealing a painting with scandalous secret papers hidden in its back. So Charlotte, Mrs. Watson and a retinue of assistants, including Charlotte's sister Livia and Charlotte's friend Lord Ingram, set off for France in order to attempt a daring heist. The friends soon realize that the mysterious Moriarty, who seems to have it in for Sherlock Holmes, may be involved, placing all of their lives on the line.
Quick-witted and swashbuckling, Thomas's novel is a feminist Victorian delight. Perfect for fans of Deanna Raybourn, Elizabeth Peters or C.S. Harris, The Art of Theft is an excellent entry in a wonderful historical series. Its deft pacing, quirky heroine and intriguing cast of characters make it a mysterious tour de force. --Jessica Howard, bookseller at Bookmans, Tucson, Ariz.