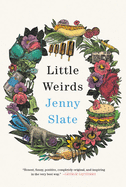 Judging from the content of Jenny Slate's Little Weirds, the inside of her mind is a fascinating, if unusual, place. In this collage of essays, stories, dreams (both night and day), and pieces that defy easy categorization, the actor and comedian invites readers to pay an extended visit, one that will leave them enlightened, moved and sometimes pleasantly puzzled.
In an assortment this diverse, it's perilous to try to isolate recurring themes. But among the more prominent ones is Slate's often vexed relationships with men. In "Daydreams/Tides," for example, she bemoans a fantasy that's nothing more than an "amalgamation of my different recent loves, who have all been terribly disappointing and irredeemable," what she calls a "flock of flimsy fools."
Slate has a fascination for the otherworldly, whether she's writing about a long-dead sea captain's cache of letters discovered in her Massachusetts childhood home, or musing about the people who preceded her in her more-than-a-century-old Los Angeles house. But it would be unfair to give the impression that the dominant tone of Little Weirds is morose. Slate flashes her comedic gift often, in pieces like "Letter: Dreams," where she imagines correspondence from the "Committee for Evening Experiences," chiding the author for the pedestrian quality of her dreams, notably one in which "you were waiting in line for a sandwich, and that this was the whole dream."
Whether one chooses to accompany her throughout her "peppy procession of all of my little weirds," or drop in at any point along the way, this collection promises a refreshing, original journey. --Harvey Freedenberg, freelance reviewer