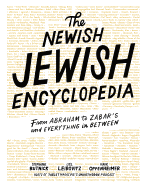 Not since 1973's The Jewish Catalog has there been a reference book that aimed to cover Jewish life, culture, religion, history, food and "everything in between." That new reference book is The Newish Jewish Encyclopedia, compiled by the creators of the Jewish magazine Tablet and the popular podcast Unorthodox.
For beginners curious about the basics of Judaism, one entry is entitled "Shabbat in Seven Easy Steps." The "Delicatessen" entry, a two-page spread, regales history buffs with the progression of Eastern European immigrants spreading across America with their pastrami, pickles, corned beef and rye. There are cross-references ("socialism/socialists" also refers to entries "Radical Jews" and "Politics and Jews"), common Yiddish terms ("schlep... both a verb and a noun... the hauling of cumbersome packages... a long and annoying commute") and cultural definitions ("Ladino.... Also known as Judeo-Spanish or Judezmo, Ladino is the language of Sephardi Jews; it originated in Spain in the fifteenth century"). A Jewish family tree traces the semi-accurate myth that all Ashkenazi Jews are related, from Karl and Groucho Marx (Groucho is Karl's "second cousin once removed's wife's second husband's aunt's first cousin twice removed") to Maggie Gyllenhaal and Irving Berlin (Maggie being Irving's "wife's eighth cousin five times removed"), and the Ashkenazim themselves command an entry a page later.
Often irreverent, completely entertaining and always informative, The Newish Jewish Encyclopedia covers the secular and religious aspects of Judaism from ancient history to 21st-century pop culture, with more than 1,000 entries, charts and infographics, plus 300 photographs and illustrations. -- BrocheAroe Fabian, owner, River Dog Book Co., Beaver Dam, Wis.