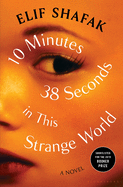 10 Minutes 38 Seconds in This Strange World, a 2019 Booker Prize finalist by British-Turkish author Elif Shafak, celebrates the memories and friendships that sustain people in difficult times. The story is told through the lens of a sex worker known as Tequila Leila, who works on Istanbul's Street of Brothels--a life that exposes her to violence, danger and, remarkably, true love.
Leila is dead when readers meet her, the victim of a gruesome murder, but her brain has yet to shut down. In the 10 minutes and 38 seconds before it does, Leila recalls vivid smells and tastes that bring to the surface long-forgotten details of her traumatic childhood, joyous marriage and poignant relationships with others living on the margins of society.
The novel focuses not on Leila's death but the richness of the life she led. There's so much more to the enigmatic protagonist than her sordid job. It is Leila's multi-textured existence and legacies that Shafak unveils, alongside the mystery of the woman's murder, as the minutes wind down. The story eventually shifts into a high-stakes adventure as Leila's friends risk everything to pay a final tribute to the woman who binds them together. Friendship, it turns out, is Leila's truest legacy of all.
Shafak (Three Daughters of Eve, Honor) portrays Istanbul in all its glorious chaos against the backdrop of civil unrest that culminated in the Taksim Square Massacre of 1977. Despite being harassed by Turkish authorities for her depiction of sexual violence, the author uses the megaphone of her 12th novel to further expose female exploitation and sexual abuse. In this way she succeeds in giving a voice to the voiceless. --Shahina Piyarali, writer and reviewer