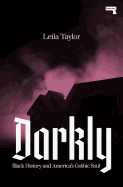 Branches weeping with Spanish moss, white front porches stained with age and mold, foggy swamps thick with humidity and sludge: in Darkly, Leila Taylor takes a closer look at the aesthetics of horror that have captivated and terrified the U.S. for centuries. In doing so, she uncovers what is particularly American about each and every strand of the American Gothic, whether framed within a Southern cemetery, a haunted Northern aristocratic mansion or an isolated and aging Midwestern farmhouse. Told as part memoir, part literary analysis, part historical scholarship, Darkly considers darkness not only as an aesthetic treatment but as a stylistic encapsulation of very real racial violence, the existential meaning of fear, and the simultaneous discomfort with and embrace of otherness upon which the U.S. has built its cobwebbed foundations.
From the start, Taylor's narrative voice is witty and deeply engrossing. Conversational in format, this book thinks critically about what fascinates readers and what darkness that spectacle may be obscuring. Taylor skips from the performative elements of ghost tours, through her childhood and on to critical close readings of everything from Edgar Allan Poe's short stories to Toni Morrison's
Beloved
. While an inspection of blackness runs through all of her analyses, the real brilliance of the way the book unfolds is in its peeling back of the various layers that define that very blackness. "Black," Taylor argues more than once, "contains multitudes, literally."
Darkly
not only illuminates the many fears inherent in the American gothic, but also resituates what has been traditionally coded as the white consumption of horror to consider what it means to view the genre from within the darkness itself. --
Alice Martin
, freelance writer and editor