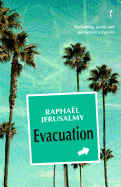 Conversations in vehicles offer a particular intimacy: occupants have no choice but to be present. In Evacuation by Raphaël Jerusalmy, translated from the French by Penny Hueston, a car's interior provides the opportunity for a young man to reveal his experiences during an evacuation of Tel Aviv, and for Jerusalmy, a former member of the Israeli military intelligence service, to show people upholding life and art in the midst of warfare.
The novella opens with Naor, an aspiring filmmaker, talking to his mother at the beginning of a drive. His voice serves as the primary narration throughout the book, as it's his story that unfolds. Typical small talk (put on your seatbelt, sorry about that turn) precedes his unexpected comment: "Don't be sad, Mum." With this remark the reader enters the car, too, and listens to Naor, as he drives, explain what happened during a recent military attack on Tel Aviv.
Naor and his girlfriend, Yaël, had planned to accompany Saba, his grandfather, on a bus to the countryside during the mandatory evacuation of the city. At the last minute, Saba gets off the bus and refuses to leave. Naor and Yaël follow him, initially to change his mind, but when he refuses, they decide, in an act of "dissidence," to defy the evacuation order.
Evacuation
is no typical war novel: spare yet compelling, and extraordinarily moving in unexpected places, it challenges those who glance impassively at a televised war to step into the experience of those nearby. --
Cindy Pauldine
, bookseller, the river's end bookstore, Oswego, N.Y.