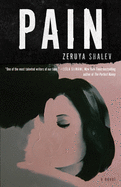 It's been 10 years since Iris was injured in a suicide bombing; she required three surgeries and continues to need pain pills. Even so, the sympathetic, searching protagonist of Israeli author Zeruya Shalev's novel Pain would say that the biggest trauma of her life occurred nearly 30 years earlier, when Eitan, her true love, cast her aside.
Iris is now married and the principal of a thriving elementary school in Jerusalem. During an appointment at a pain clinic, she encounters Eitan: he's the pain specialist who examines her. They haven't seen each other since their breakup, and he gives no sign that he recognizes her; then again, Iris's husband is in the room with them. She returns alone to the clinic to see Eitan, and they begin an affair that puts her accident in a different light: "If it hadn't been for that catastrophe, they would not have met again."
Any synopsis risks giving the reader the mistaken impression that
Pain
is a sudsy melodrama. Shalev, an Israeli writer, uses the novel's plot points as pegs for her heady themes: the ripple effect of disaster, the past's chokehold on the present.
Pain
is over-reliant on words like "trembling" and "shaking," and some readers may find themselves in solidarity with the woman who tells Iris to stop meddling in her adult daughter's life. (Iris suspects that her daughter's troubles stem from the young woman's intuition that Iris doesn't sufficiently love her husband, but how can Iris truly love any man who isn't Eitan?) Regardless, Iris is a complex, singular character who has the virtue of usually being right, to readers' terrific satisfaction as well as Iris's own. --
Nell Beram
, author and freelance writer