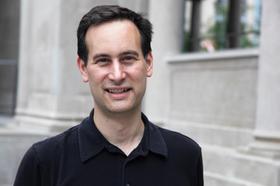 photo: Jake Ha
When not at his day job as editorial director of Scholastic, David Levithan writes mostly for young people (although he also wrote The Lover's Dictionary for adults). He is the author of two of the most frequently banned books (according to the American Library Association)--Boy Meets Boy and Two Boys Kissing--as well as Every Day (made into a major motion picture) and its companion novels, plus several collaborations, including Nick & Nora's Infinite Playlist. Levithan received the 2016 Margaret A. Edwards Award for his body of work. 19 Love Songs, out today (Knopf, $17.99), celebrates his longtime tradition of giving Valentine stories to his friends.
On your nightstand now:
After a taunting by a friend, I counted the number of books in my TBR stacks... and got to over 400. Luckily, I don't keep them on my nightstand, because what nightstand could withstand that weight? But if I can modify the question to mean "In your backpack right now to read when you have a chance," the answer is Kevin Barry's Night Boat to Tangier.
Favorite book when you were a child:
Alexander and the Terrible, Horrible, No Good, Very Bad Day.
Your top five authors:
I will not fall into this trap! Do you know how many friends I have whose books I love? So I'm going to go with what 17-year-old David would have answered, which is: Anne Tyler, Alice Hoffman, Philip Roth, David Leavitt and Elmore Leonard. (When I was 17, I read like I was 47; now that I'm 47, I read like I'm 17. Discuss.)
Book you've faked reading:
I'm so much more likely to do the opposite, and fake that I haven't read something so I don't have to say I didn't like it.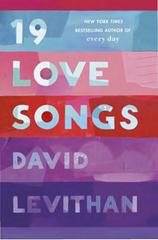 Book you're an evangelist for:
I suspect that most of my friends could answer this question for you. I will never tire of talking about Craig Thompson's Blankets, and buying a new friend a copy if I discover they haven't read it. I've probably bought 50 copies over the years, if not more. And it's not a cheap book.
Book you've bought for the cover:
Permanent Record. The one by Choi, not Snowden. (And I would have bought it eventually, because she's a great writer, but the first time I saw it, I was not in a position to be carrying a book around... but I saw the cover and HAD TO HAVE IT RIGHT AWAY.)
Book you hid from your parents:
The only thing I can think of here is my journal (which I only kept for about six months in high school).
Book that changed your life:
My books wouldn't have learned how to sing without Francesca Lia Block's Weetzie Bat giving voice lessons.
Favorite line from a book:
Not THE favorite line, but A favorite line would be the opening to M.T. Anderson's Feed. I'd replicate it here, but if you've read the book, you'll remember it. And if you haven't read it, let this force you to search it out.
Five books you'll never part with:
Billy Merrell's Talking in the Dark; Tanuja Desai Hidier's Born Confused; Alex Gino's George; Debbie Wiles's upcoming Kent State; and the entirety of The Baby-sitters Club, because I've lived in Stoneybrook longer than I've lived anywhere else.
Book you most want to read again for the first time:
Maggie Stiefvater's The Scorpio Races. I get genuinely envious when someone tells me they're about to read it for the first time.
Books from 2019 that you didn't work on that you want everyone to read:
A.S. King's Dig.; Abdi Nazemian's Like a Love Story; John McCarthy's Scared Violent Like Horses; and Sally Wen Mao's Oculus.