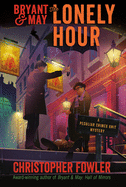 The Peculiar Crimes Unit is a specialized division of the London police; as the PCU's chief puts it, "If the Met doesn't want to touch it, it comes to us."
The PCU is notorious for its most senior detective, the getting-on-in-years Arthur Bryant, a walking anachronism. Bryant wears a trilby, peppers his speech with old English slang and has an adversarial relationship with technology--and sometimes with his long-suffering partner, detective John May.
As Bryant & May: The Lonely Hour opens, a man named Dhruv Cheema has been found hanging by his ankles, his throat cut, on London's Hampstead Heath. While Bryant and May are investigating the possibility that Cheema was sacrificed in a satanic ritual, the Met hands the PCU another case: a man's body has just been pulled from the Thames. His throat was pierced with the same weapon used on Cheema: a surgical instrument called a trocar. What's more, both men died at the same lonely hour: 4 a.m.
The 16th book in Christopher Fowler's Peculiar Crimes Unit series (Bryant & May: Strange Tide) is a cracking good caper twined with whip-smart PCU-centered subplots. The Lonely Hour is also a love letter to London, especially evident in the book's excerpts from Bryant's "Peculiar London" walking-tour guide. All this is laced with impious humor from the Monty Python school. Bryant's attempt to console the chief about his dead cat: "She had a good life.... I could have used her for all kinds of experiments but I hardly ever did." --Nell Beram, author and freelance writer