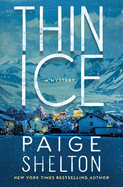 Paige Shelton (The Loch Ness Papers) departs from her cozy Scottish mysteries in Thin Ice, the riveting first entry in an Alaskan suspense series. Beth Rivers, known to the world as thriller writer Elizabeth Fairchild, recently was kidnapped by a crazed fan, Levi Brooks, and was badly injured while escaping from him.
Fleeing to a remote Alaskan town, population 500, Beth is hoping to find safety. But instead, she discovers that Benedict is a town full of secrets. She thought she'd booked a room at a hotel, but it turns out that Benedict House is actually a halfway house for female shoplifters. And Beth's new dorm-mates are possibly not the only people in Benedict with criminal pasts to hide.
After talking to the local police chief about how to blend in and hide her past as Elizabeth Fairchild, Beth decides to take over the publication of the town's very occasional local newspaper. When a woman turns up dead, apparently by suicide, Beth uses her cover as the local reporter to help Benedict's police chief investigate the situation.
Back home in Missouri, the police have been unable to trace Levi Brooks, and Beth begins to worry that somehow Levi has chased her all the way to Alaska. Suspenseful and intriguing, Thin Ice captures the intensity of life in a spartan setting and the fraught nature of Beth's mental state in the wake of her suffering. Shelton's fans are sure to enjoy this compelling departure from her typical writing style. --Jessica Howard, bookseller at Bookmans, Tucson, Ariz.