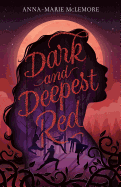 Anna-Marie McLemore's fifth novel, the National Book Award-longlisted Dark and Deepest Red, is an artful, spellbinding YA reimagining of Hans Christian Andersen's "The Red Shoes."
Lala and her Tante Dorenia moved to Strasbourg because, as Tante says, "What we are, they have made it a crime in our own country. So we will go somewhere no one knows us." She refers to a law that forces the Romani out of home after home: "Whoever harms a Gypsy commits no crime." Then "la fièvre de la danse" takes over the city. At first one, then tens, then hundreds of people dance manically, as if possessed. Lala knows it is only a matter of time before the stares of the city turn to her, fear in their eyes, "witchcraft" on their tongues.
Rosella, like Lala, is 16 and lives in present-day Briar Meadow where, every October, a "strangeness" they call the "glimmer" settles onto the town. For generations, Rosella's Mexican American family have been shoemakers known for their red shoes; this year's glimmer has ensnared their shoes, making anyone wearing them fall in love. Even as the magic of the red shoes romantically enchants Rosella and childhood friend Emil, Rosella's pair makes her dance as if possessed.
McLemore's (Blanca & Roja) vision and skill inspire awe in this gorgeously rendered novel. Though their characters are tied to places so tightly they chafe, the work itself is expansive, somehow evoking the vastness of human experience through only three points of view. McLemore's settings charm and their plotting captivates, but it is their devoted and deep character development that makes the work so enthralling. Deep and Darkest Red is for the teen "capital R" Readers out there who want a work with writing as entrancing and seductive as the story. --Siân Gaetano, children's and YA editor, Shelf Awareness