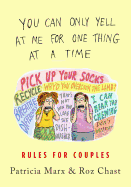 Two New Yorker contributors--writer Patricia Marx and cartoonist Roz Chast--join forces in You Can Only Yell at Me for One Thing at a Time, 65 cartoons about love and relationships. Framed as an advice manual for people living together long-term, this collection showcases a diverse cast of characters united by love and annoyance.
Chast's signature black-and-white illustrations provide the visual and emotional context for captions such as "Earphones." In this cartoon, two women sit next to each other on a sofa, one rambling about traffic and spin class, the other happily ignoring her to listen to music. This sort of humor is consistent throughout, picking up at the point where the characters have moved past resentment and straight into an array of coping mechanisms.
The intentionally terrible advice in these cartoons provides readers with just those mechanisms, such as how to get your way: "Force yourself to say 'I love you.' It makes the other person feel guilty and that always works to your advantage." Despite the adversarial nature of the advice within, a strong undercurrent of affection runs through these cartoons. For example, how to be a good listener: "The answer to the question 'You know whatchamacallit who was dating the one with the father who had the business and there was that thing?' is yes."
Short and hilarious, this book is the perfect thing to leave in a very annoying place, such as in front of the microwave. --Suzanne Krohn, editor, Love in Panels