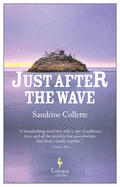 Three children awaken to silence in an empty house, finding only a note on the table and cupboards of food. Louie with his crooked leg, one-eyed Perrine and Noah, whose body refuses to grow, are the imperfect ones in French author Sandrine Collette's devastating second novel translated into English, Just After the Wave. They are the "rejects" whom their parents have left alone, with the promise to return for them.
Days before, the wall of a volcano slid into the sea. The gigantic wave it generated surged away from dry land, but floodwaters followed the tsunami and submerged the coast. Now the hillside where the family's house is perched has become an isolated island, surrounded by a new ocean and besieged by "the demented weather" of constant storms.
Each morning the waters rise higher. The parents know the only solution is to put as many children as they can on a makeshift raft, find an unflooded country and come back for the ones they're forced to abandon. They assure themselves that Louie is old enough to care for his sister and brother, that Perrine can cook basic meals and that Noah can help with chores. With their other children, they set off on an endless sea, determined to find safety and a way to rescue the ones they've left behind.
Just After the Wave is a fable for today, as well as a wrenching story of love and survival. Sandrine Collette has reached deep into past fairy tales and modern reality to create a novel that's a stunning, resonant wake-up call. --Janet Brown, author and former bookseller