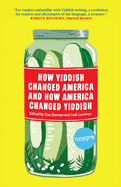 "The best laid schemes o' Mice an' Men/ Gang aft agley," wrote Robert Burns; in Yiddish, "Der mentsh trakht un got lakht" translates to "Man plans and God laughs." While "To a Mouse" may not have been quoting Yiddish exactly, as an immigrant culture, Yiddish has far-reaching influences throughout Europe, the Americas and beyond. Published in partnership with the Yiddish Book Center to commemorate the organization's 40th anniversary, How Yiddish Changed America and How America Changed Yiddish traces the historical impact of Yiddish and celebrates its vibrant relevancy today.
Editors and scholars Ilan Stavans and Josh Lambert organize the volume into six sections (Politics and Possibility; The Mother Tongue Remixed; Eat, Enjoy, and Forget; American Commemoration; Oy, the Children!; and The Other Americas) and present a veritable who's who of Yiddishists who contribute essays, memoir and fiction (Isaac Bashevis Singer, Michael Chabon, Grace Paley); plays (Moyshe Nadir); poetry (Allen Ginsberg); recipes (Procter & Gamble); songs (Sophie Tucker); cartoons (Liana Finck); oral histories (Fyvush Finkel, Walter Matthau, Alan Alda); and more. There are works in translation--as their creators wrote in either their native tongue (from Belarus, Ukraine, Argentina, etc.), Yiddish, or both--with full credit given to the translators (living in Scotland, Canada, the U.S., etc.), showcasing the breadth and depth of Yiddish reach.
Alan Alda provides a fitting description of this momentous anthology in the included piece "Yiddish Hollywood," in which he says, "[Yiddish stories] are an expression of the character of the Jewish people. They have an acute sense of humor which they're able to express even in the midst of their deepest suffering." Though Alda is not Jewish, his insight proves everyone can appreciate Yiddish's cultural legacy and current importance. --BrocheAroe Fabian, owner, River Dog Book Co., Beaver Dam, Wis.