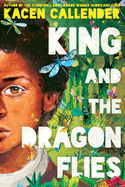 Kacen Callender's second middle-grade title, King and the Dragonflies, deftly treads familiar, challenging territory--race, sexual identity, death--again in a sensitive and age-appropriate manner.
Kingston Reginald James hates his name. His parents' regal choice was deliberate, "so I'd remember... that I've got ancestors who used to rule their own empires before they were stolen away." King doesn't feel like royalty, though. These days, he's mostly just scared. Older brother Khalid would say, "If you're always too busy hiding, then you're not really living, are you?" But Khalid is dead at only 16, and the family, perhaps King most of all, is struggling to move on. Khalid is buried, but King knows he's just swapped his human form for that of a dragonfly.
King is also afraid to admit how much he misses his friend Sandy, with whom he severed his relationship after Sandy told King he was gay; Khalid overheard Sandy's confession and warned King to stay away because "Black people aren't allowed to be gay." Besides, even if Sandy is nothing like his family, everyone knows they've got multigenerational connections to the KKK.
In conflating Sandy's family's hateful background with King's own rejection of homosexuality, Callender (Hurricane Child) is especially effective at exposing the many ways we unfairly dismiss, reject and harm one another. "You think my granddad is bad because he was a racist.... You're doing the same. Exact. Thing," Sandy schools King about his internalized anti-gay fears. Beyond the robust roster of crucial issues (unpunished murder, racist law enforcement, child abuse, runaways), Callender's King and the Dragonflies is ultimately a resonating family story of tragic loss, shattering consequences and finding "a new normal" enabled by unconditional love. --Terry Hong, Smithsonian BookDragon