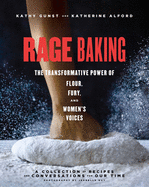 Both timeless and also a direct response to the war on American women's civil liberties and body autonomy of the late 2010s, Rage Baking: The Transformative Power of Flour, Fury and Women's Voices is a manifesto for channeling anger into positive action.
"This is not a book telling women that if they get back into the kitchen and start baking, their rage will be sedated and all will be well," writes James Beard Award-winning co-author Kathy Gunst (Soup Swap). "This is a book about women's voices, women's recipes, women in community with one another."
The community of women Gunst and co-author Katherine Alford (Food Network) got to participate is impressive. Contributors include all-star chefs and restaurant owners, cookbook authors and food writers, Emmy-winning musicians and documentary filmmakers, television hosts and writers. Together, they have produced a distinct combination of more than 50 recipes. From around the world: Arabic baklawa, Baton Rouge lemon bars, Indian thepla, Jewish challah, Swedish visiting cake, bizcocho de ron (Mami's rum cake). For resistance: Impeachment Upside-Down Cake, Drop Dead! Pecan Spice Cookies, Rainbow Cookies, Power Muffs, (Don't Call Me) Honey Cakes. All these are augmented with essays, personal stories, poetry, in-depth interviews and baking tips.
"Here's the bad news, America," writes Tess Rafferty in "The Revolution Will Be Catered," "you've woken a white-hot atomic geyser of rage in women. Here's the good news: we've brought cookies."
In short, a passion for baking + activism = rage baking. A percentage of book sale proceeds goes to EMILY's List, an organization dedicated to electing pro-choice Democratic women. --BrocheAroe Fabian, owner, River Dog Book Co., Beaver Dam, Wis.