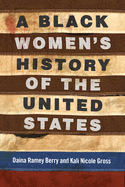 A Black Women's History of the United States is a fascinating look at how Black women have always played a role in American history, although that role was, and still is, often downplayed. History professors Daina Ramey Berry and Kali Nicole Gross showcase hundreds of instances of strength, defiance and achievement by Black women. Their book begins with Isabel de Olvera, a woman of African descent who joined an expedition to New Spain in 1600, and ends with Patricia Okoumou, who climbed the Statue of Liberty in 2018 to protest the incarceration of migrant children at the border.
For centuries, countless women survived the horrific journey in slave ships from Africa, and endured the brutality of slavery. Later, in the Jim Crow era and beyond, Black women became suffragists and activists, speaking out against their suppression and organizing collectively to try to better their circumstances. They "worked hard and consistently, often under unfair and degrading circumstances," earning less than Black men or white women.
Using the examples of women from the era of exploration to the modern day, Berry and Gross have created a vivid and compelling history that may be unfamiliar to many Americans. From Millie and Christine McCoy, conjoined twins who were born into slavery and treated as freaks on the state fair circuit, to Gladys Bentley, a cross-dressing Black lesbian who took Harlem by storm in the 1930s, U.S. history is full of Black women who have been overlooked. A welcome addition to the library of any history enthusiast, A Black Women's History of the United States is an absorbing read. --Jessica Howard, bookseller at Bookmans, Tucson, Ariz.