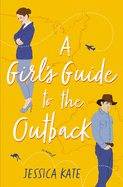 Jessica Kate (Love and Other Mistakes) showcases her Australian background in the inspirational romance A Girl's Guide to the Outback. The story begins in Virginia, where popular youth pastor Samuel Payton and his coworker Kimberly Foster keep butting heads at their youth outreach ministry, Wildfire. Kimberly, a business whiz, wants to expand Wildfire to more locations, but cautious Sam rejects her plan. He goes one step further, too, leaving the ministry to return home to Australia and help his sister Jules save her failing farm. Several months later, Kimberly, forced to admit that Wildfire is floundering without Sam, follows him to Australia, offering to analyze the farm's business plan and help Jules if Sam will temporarily return to Wildfire to hire his replacement.
The wild nature of the Outback shocks Kimberly, and Sam is stunned to find that Kimberly isn't quite as annoying as he always thought. As they work together to help Jules and talk about the future of Wildfire, they slowly begin to realize that maybe they could make a great team, both professionally and romantically.
Sweet and funny, A Girl's Guide to the Outback is a thoroughly entertaining inspirational romance riddled with hilarious farm accidents. Jessica Kate has created realistically prickly characters, forced to overcome many personal difficulties as they recognize a surprising attraction for each other. The hate-into-love trope is softened by the characters' growth, both in their personal development and in their faith. A Girl's Guide to the Outback is sure to please readers of romance and Christian fiction. --Jessica Howard, bookseller at Bookmans, Tucson, Ariz.