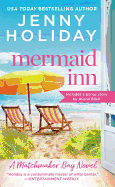 With Mermaid Inn, Jenny Holiday (Three Little Words; It Takes Two) begins a humorous new romance series centered on small-town life on a Canadian lake. Eve Abbott has been working as a librarian in Toronto, where she's lived for a decade, when she discovers that her great-aunt has died, leaving her the Mermaid Inn in tiny Moonflower Bay--known as Matchmaker Bay by the jokey locals. Eve spent summers in Moonflower Bay as a teenager and fell desperately in love with Sawyer Collins, until he broke her heart by kissing another girl in front of the whole town during the annual mermaid parade.
Sawyer, now the police chief, knows that he messed up, and he's missed Eve for years. She's back in town only temporarily, planning to fix up the decrepit Mermaid Inn and sell it, but Sawyer longs for her to stay. He's worried that the grown-up Eve is too good for him, though, and that she'd never readjust to small-town life. Luckily for Sawyer, the elderly residents of "Matchmaker Bay" are on his side, determined to get Eve and Sawyer back together for good.
There is hilarious repartee between the elderly locals and the slightly cranky (but very sexy) Sawyer, and between Eve and herself as she makes mental lists of why falling for Sawyer again is a terrible idea. As a result, Mermaid Inn is a charming and funny romance. Rom-com enthusiasts will love its cast of quirky characters and charming depiction of small-town life. --Jessica Howard, bookseller at Bookmans, Tucson, Ariz.