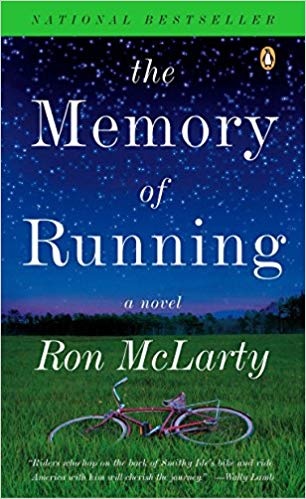 Novelist, character actor and prolific audiobook narrator Ron McLarty died February 8 at age 72. McLarty regularly appeared in films and TV series such as
Spenser for Hire
,
Cop Rock
and
Law & Order
. His debut novel,
The Memory of Running
, had difficulty finding a print publisher, so McLarty released it as an audiobook. Stephen King came across that recording and, in 2003, in his
Entertainment Weekly
column "The Pop of King," he called
The Memory of Running
"the best book you can't read." King's comments caused a bidding war for McLarty's novel. It was published by Viking in 2004, followed by
Traveler
(2007),
Art in America
(2008) and
The Dropper
(2009). In addition to narrating his own work, McLarty's audiobook credits include authors King, Danielle Steel, David Baldacci, Anne Rice, Richard Russo, Elmore Leonard, Ed McBain, Scott Turow and George W. Bush.
The Memory of Running
follows obese drinker, smoker and middle-aged Vietnam War veteran Smithson "Smithy" Ide. In the course of a single week, Smithy loses both his parents and his estranged sister. When he rides his old Raleigh bicycle out of his parents' house in Rhode Island, Smithy begins a journey of redemption and self-discovery to claim his sister's body in Los Angeles.
The Memory of Running
is available in paperback from Penguin Books ($16, 9780143036685). --
Tobias Mutter