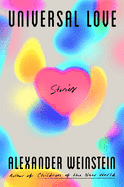 In Universal Love, Andrew Weinstein presents stories set in the near future, showing how technology modifies human interactions. As in his debut short story collection, Children of the New World, characters live with technological advances that, to a reader in 2020, seem right around the corner. For instance, when handheld devices aren't enough in "We Only Wanted Their Happiness," parents allow chip implants in their children's skulls, providing neurological programming that is, predictably, addictive. "But how can you say no to your children?" the unnamed narrator shrugs. As children withdraw from reality into a more exciting virtual world, parents realize their decision is irreversible--kids, technologically savvier than adults, hold their parents' digital lives in their hands.
Each story is rooted in realism, making the speculative aspect even more unsettling. In "The Year of Nostalgia," a grieving family keeps their dead wife and mother "alive" with an interactive hologram. The ability to avoid grief, of course, does nothing to help them come to terms with her death. Living with the hologram, says one daughter, "sealed my grief somewhere deep inside." In "True Love Testimonials," virtual sites exist where avatars can have "empty sex or meaningful sex," just like real life. It's not ideal, and could use some upgrades, but "real life isn't part of the agreement," says one user.
Weinstein treats his characters with sympathy as they gamely face a world they don't understand. Fans of George Saunders and Ray Bradbury will recognize the compassion--and premonition--in these disquieting stories. --Cindy Pauldine, bookseller, the river's end bookstore, Oswego, N.Y.