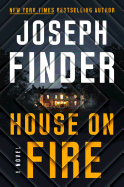 In Joseph Finder's nail-biting mystery House on Fire, private investigator Nick Heller infiltrates a big pharma billionaire's backstabbing family to seek justice for the death of a friend.
Nick gets an urgent call from a military buddy's distraught wife. Her husband, Sean, saved Nick's life in Afghanistan, but was wounded and developed an addiction to the opioid drug Oxydone. Sean has just died from an overdose of the painkiller.
At Sean's funeral, Nick is approached by Sukie Kimball, the daughter of billionaire Conrad Kimball, who owns the company that makes and markets Oxydone in the form of an easy-to-use inhaler. Sukie wants to expose her father's company for hiding the truth about Oxydone's addictive properties. Nick poses as her date at family functions to search the Kimball mansion, but Sukie's dysfunctional siblings quickly see through the ruse and will do everything they can to stop Nick--even murder.
Finder (Guilty Minds) delivers tight writing with sharp characters, especially the cast of Kimball family members. There's a pseudo-intellectual about to publish a book--as soon as he can settle on a topic; a theater producer who can't gain any respect due to the family name; an alcoholic lothario turned pyromaniac; two siblings seeking to take control of the company; and Conrad's Russian mail-order bride, who may just become the sole beneficiary of the Kimball empire. Fans of HBO's Succession and dynamic murder mysteries will eagerly inhale House on Fire. --Paul Dinh-McCrillis, freelance reviewer