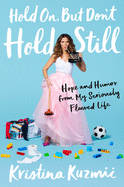 In the inspiring memoir Hold On, But Don't Hold Still: Hope and Humor from My Seriously Flawed Life, a mother who struggled with finances, depression and divorce presents her parenting philosophy with wit, wisdom and candor.
Internet parenting sensation Kristina Kuzmič walks readers through her darkest moments and how she broke through monumental barriers to self-confidence. She kept her marital issues quiet, blindsiding those around her when she later announced her divorce. She maintained a false front at her waitressing job only to consider suicide as she drove home to the small bedroom she and her two toddlers shared. Yet Kuzmič didn't stay stuck long. She instituted weekly dinners, preparing a home-cooked meal for anyone who needed company, thereby proving she had more to give.
Kuzmič exhibits resilience in moving forward as she recollects tragic events--fleeing her home country of Croatia during its war of independence, miscarrying her twins, being molested--as well as everyday chaos: spending Christmas in the hospital after her son's appendectomy, co-parenting with her ex, calming a screaming toddler on an airplane. At her brightest, like winning her own cooking show on the Oprah Winfrey Network and hitting one million views on a parenting video, Kuzmič remains grateful for how far she has risen. She encourages readers to focus on what they do have. Parents especially will appreciate hearing it's okay to be average and that "challenging kids don't equal bad parenting."
Through hilarious and heartrending personal anecdotes, Hold On, but Don't Hold Still delivers valuable strategies for accepting, enjoying and surmounting life's uncontrollable messes. --Samantha Zaboski, freelance editor and reviewer