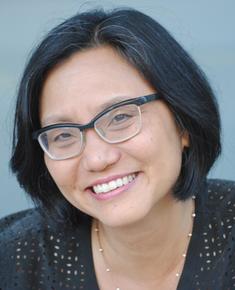 photo: Sonya Sones
Almost two decades have passed since Linda Sue Park became the first Korean American--and only the second Asian American--to win the Newbery Medal, in 2002 for A Single Shard. She's since published dozens of titles (Gondra's Treasure; Forest of Wonders; Yaks Yak) for children of all ages, but Prairie Lotus (reviewed below) might be the book that's taken her the longest to write. It's set in 1880, as Hanna Edmunds arrives in LaForge, in the Dakota Territory, with her merchant father, both hoping to set down roots. For Hanna, whose late mother was Chinese, her immediate difference is an additional challenge to gaining some semblance of acceptance.
In your closing author's note, you refer to Prairie Lotus as "an attempt at a painful reconciliation" between your childhood love for Laura Ingalls Wilder's Little House series and your adult knowledge of racism. Could you talk more about that?
I don't think it's something I could have articulated as a child, but I did know that I was uncomfortable reading many passages. I was a re-reader, so I remember anticipating those pages, then holding them together as I turned them, so I could skip reading them.
Like most of us who went through the U.S. education system, I had been subject to the "single story" (as Chimamanda Ngozi Adichie calls it in her seminal TED talk) of the American pioneer and frontier experience. But whenever I read about how Ma viewed Indians, I would feel a kind of nameless anger. It was "general," but it was also personal: I wanted badly to be friends with the Laura in the book, and I knew that Ma would never have allowed it--because of my black hair and tan skin. She would have lumped me together with the Indians as a "lesser" human.
If you had the opportunity to meet Wilder today, what might you say to her?
"Your books meant a lot to me when I was growing up. I hope you enjoy mine." *hands her a copy of Prairie Lotus*
Where did Hanna come from? How did she form in your imagination?
I used to lie in bed at night and imagine that I was Laura's best friend. I invented new adventures for us together. I realize now that it was a pre-Internet version of fan fiction--it existed only in my head. Many of the details of those nighttime imaginings are in the book, written some 50 years later!
For example, I knew that in the 1880s, in Dakota Territory, there were no Koreans. With the rare exception of a diplomat or two, Koreans didn't arrive in the U.S. until the early 1900s, and they landed in Hawaii, not on the continent. So I couldn't be a Korean or Korean American in De Smet. But there were thousands of Chinese people living in the U.S., so I thought maybe I could be a half-Korean, half-Chinese girl? And that ended up being part of Hanna's ancestry [her father is white, her mother is Chinese and Korean]. When I look back on it now, I'm fascinated by that adherence to historical accuracy in an eight-year-old's mind--why didn't I just fantasize about a Korean girl in that setting? I think it must have been that underlying awareness children always have, of being "other" even if no one says it aloud.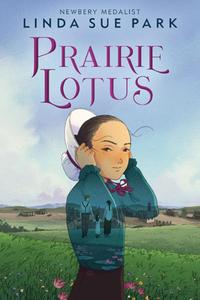 And her name is brilliant: ha-na in Korean is the number 1; hana in Japanese is flower; ohana in Hawaiian is family.
Thank you. It actually took me a while to find her name.
Why the decades until you finally introduced Hanna to your readers?
A kind of "perfect storm" of circumstances. First, it's not a book I could have written earlier in my career. I wasn't ready. I hadn't done enough thinking about what my identity elements actually mean in my life and in my work. I had done some thinking about it, but I had and still have so much learning to do. Then, among other things, We Need Diverse Books came along, and suddenly the conversations around the topic multiplied exponentially, providing many more learning opportunities. I started to think that maybe I could write it, the book that had been in my head for 50 years. I began jotting down notes in 2017. Later that year, Prairie Fires, Caroline Fraser's adult nonfiction about Wilder, was published and won a Pulitzer Prize. That showed me that people were ready to re-examine the myth of the Little House books. It was great encouragement for me, because it was terrifying to think of taking on such an icon--not just of children's literature, but of the American cultural imagination.
With the importance of #ownvoices, were you concerned that you might face backlash as a Korean American writing about a mixed-race Chinese American pioneer girl transplanted from California to the Midwest?
Yes, it's something I thought about a lot. I structured the story so that the scenes with Mama in California are depicted in a few flashbacks. So the elements of Chinese heritage in Hanna's life are painted with only the quickest of brushstrokes. At the same time, they're differentiated from her Korean heritage, which gets even less time on the page because it comes from Hanna's grandfather, whom she never knew.
The result is that Hanna's experience is largely the story of being a girl of East Asian ethnicity in the Midwest. And THAT (whew) is #ownvoices.
And how did you approach creating the Native American interactions?
I spent a lot of time on Wichapiwin, the Oceti Sakowin (Sioux) woman whom Hanna encounters twice in the book. Research time, of course, travel time and expert readers. But also time in my imagination. Wichapiwin has a back story, not in the book's pages, but in my head and my heart. She's as real to me as any of the other characters, and I hope that's how she comes across to readers.
Racism, alas, is prevalent throughout Hanna's life and, as you explain, "largely autobiographical," even as you're living almost 150 years apart. Has society really changed?
Oh, of course it has changed. In 1880, my marriage would have been illegal. But every generation has its own responsibility to keep bending the arc that Dr. King drew for us, toward a more just universe. I have days of despair, but giving up is simply not an option, right? So we do our work and put our hope into the young people of the world, by giving them the tools they will need to keep hammering away at that arc. --Terry Hong, Smithsonian BookDragon