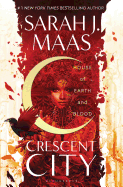 Sarah J. Maas (Throne of Glass series) creates the beautifully rich setting of Crescent City for House of Earth and Blood, her first novel for adults. A half-human, half-faerie living in the bustling metropolis, Bryce Quinlan was never expecting her world to be turned upside down. She's enjoyed a carefree life with her friend Danika. But when a demon brutally murders Danika and her werewolf pack, Bryce abandons her party lifestyle and becomes a complete recluse for years. She's endeavored to move on and continue her semi-legal job as an antiquities dealer. But when the events that scarred her reemerge, and the human convicted for summoning the demon that murdered Danika appears to be innocent, Bryce is dragged back into the world she desperately wanted to leave.
Bryce navigates her city by walking the edges. While paranormal entities rule everything, humans are pushed to the bottom of society. Her bodyguard and partner, the infamous Archangel Hunt, is not very excited to help this seemingly spoiled "party princess" solve the crime, but his forced service to the rulers of Crescent City doesn't give him a choice. As Bryce, Hunt and Bryce's half-brother (and heir to the Autumn Court) Ruhn get closer to solving the mystery, the three learn more than they bargained for about the political and cultural turmoil of their world.
Maas's novel adroitly mixes paranormal fiction and urban fantasy, evoking the work of contemporaries like Nalini Singh. With romance, action and an intricate mystery at the novel's core, new and old fans of Maas will become instant fans of Bryce and her story. --Amy Dittmeier, adult services librarian, Brookfield Public Library, Ill.