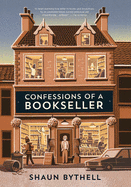 Anyone who loves books will be delighted with the diary of Shaun Bythell, owner of The Bookshop. With 100,000 titles, it is the largest secondhand bookstore in Wigtown, in the Galloway region of Scotland--a village known as Scotland's National Book Town. Bythell covered the days of 2014 in his first book, The Diary of a Bookseller, and continues into 2015 with Confessions of a Bookseller.
Bythell nurtures his curmudgeonly image and pens droll summaries of daily annoyances. Entries vary from the quotidian (totals of customers and sales) and the mundane (the seat has broken off the loo) to tales of customer interactions, notable book finds (he lists "an interesting old book on the Sandwich Islands" at £125) and updates on fellow Gallovidians. While readers of the first book will recognize themes, such as the continued impertinence of his unreliable staff person, Nicky, Confessions of a Bookseller is entertaining as a stand-alone. Not so jaded after 14 years of bookselling, Bythell maintains his sense of humor (" 'I wonder if you can help me. I'm looking for self-help books,' a customer says. I'm almost certain he failed to see the irony"). Online sales, critical to his success, prompt stories of indignant customer e-mails and inconsistent internet service. An active advocate of bricks-and-mortar stores, Bythell is committed to "making the bookshop an 'experience' and offering something fresh and different."
Short of a flight to Scotland, Confessions of a Bookseller is the quickest escape to a seaside village where books reign. -- Cheryl McKeon, bookseller, Market Block Books, Troy, N.Y.