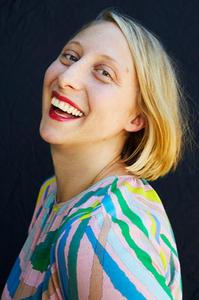 photo: Melanie Dunea
Emma Straub is the author of the bestselling novels The Vacationers, Modern Lovers and Laura Lamont's Life in Pictures and the story collection Other People We Married. She and her husband own Books Are Magic, an independent bookstore in Brooklyn, N.Y. Her novel All Adults Here (Riverhead, $27) is reviewed below.
How have you been weathering the coronavirus crisis as both the owner of a temporarily shuttered bricks-and-mortar bookstore and an author with a new novel out?
How much time do you have? To be totally honest, mostly I've been weathering it as a mom, which helps because I don't have time to obsessively read the news or be too scared, because I have to build Legos and dance and read books. My husband does the lion's share of the work at the store always, but especially now. And as an author, I feel aware of how lucky I am to already have an audience, and to know that I'll likely be able to have other chances for big publications, whatever that looks like in the future. My heart really goes out to the debut authors who are publishing books right now: to have worked for years to get here, and to find themselves in this land out of time. Even though we are surrounded by unfathomable tragedy and sadness, it's hard not to be able to celebrate.
Speaking of your new book, what was the genesis of All Adults Here?
I wanted to write a book about cheese! That's really how it started, though as soon as I started outlining, I realized it wasn't about cheese. (There is cheese in the book, but only a little.) As ever, I'm interested in family dynamics, but with this book, I started from a new place--I now have two kids, and my parents are in their late 70s, and it's a whole different world. Of course, a book is never about what you think it's going to be about. Sometimes I think you don't know what a book is really about until you're finished.
In All Adults Here, one of your characters thinks, "So much of becoming an adult was distancing yourself from your childhood experiences and pretending they didn't matter, then growing to realize they were all that mattered and composed 90 percent of your entire being." Do you believe this is true, and if so, how did that realization come to you?
Ha, you caught me! I do believe that the formative experiences we have as kids, and our relationships with our loved ones in particular, do squish your brain into a particular shape, and it pretty much stays there until you start examining your habits. Therapy is good for that. And it's never too late--not for any of us--to do better, to get things right, to try harder, to change.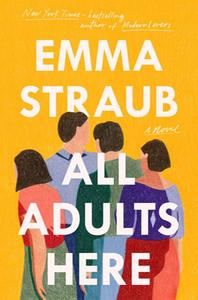 You have some great, withering lines in All Adults Here; I think my favorite is the reference to "stores for women who had reached the chenille-tunic stage of life." Is there an author whose biting wit inspires you, and would you balk at being referred to as a "comic novelist"?
I'm delighted every time anyone thinks I'm funny--small children, strangers in the bookstore, anyone who reads my books. And most of my favorite writers are funny--Jane Austen, Colson Whitehead, Lorrie Moore, Tom Perrotta, Meg Wolitzer--even if their books aren't thought of that way. It's just like choosing a person to spend time with, really--wouldn't you rather spend time with someone funny?
Your father, Peter Straub, is best known as an author of horror literature. I'm sure he inspired you to become a writer, but have you ever considered writing genre fiction?
Oh, I tried. I tried to write a mystery novel, I tried to write a fantasy novel. Those are very, very hard, and require a clarity of vision that I certainly did not possess in my 20s. I may try again someday. Who knows? But writing a good genre novel is like being able to speak another language. I respect those authors too much to assume I could do it.
You have kids. You write books. You own a bookstore with a children's section. Surely you have a few ideas for kids' books kicking around in your head?
You better believe it! Children's book editors: call me--I have a few ideas that I think are genuinely good. But, of course, as with genre fiction, I would be moonlighting in genius territory, and I don't fool myself that my books would be anywhere near as profound as the books by the people I love: Carson Ellis, Mac Barnett, Christian Robinson, Zachariah OHora. There are so many incredible picture book writer/illustrators working now. I feel lucky that I get to spend so much of every day reading kids' books.
How has being an author changed your approach to bookselling, and how has being a bookseller changed your approach to writing?
When we opened, being an author meant that I had direct access to scores of writers, and could e-mail or text them and ask them to do an event. Now I try to play by the rules, and book things through the [publishers'] event grids, but actually, right now, in the midst of the pandemic, I do feel a bit like I've reverted to that spirit of oh-I'll-just-do-it-myself, whatever it is, because I'm at home with my kids and the store feels like an idea rather than a place. (Have I mentioned that this is a funny time to do interviews? It is!) But more long lasting, I hope, is the way that bookselling has changed my approach to writing. I imagine there are two main camps for writers who work in bookstores: one group is overwhelmed by the volume and breadth and sparkle of all the new books that come out every week, and one group is inspired by the same. I, very happily, find myself in the latter category. Whether I have time to work is another matter. --Nell Beram, author and freelance writer