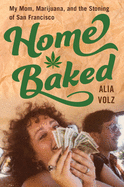 A coming-of-age memoir like no other, Home Baked is Alia Volz's story of growing up during the boom of San Francisco's marijuana culture, viewed from alongside the infamous "Sticky Fingers brownies" creator: her mother, Meridy. Volz witnessed some of her mother's work from a stroller that doubled as a brownie delivery cart. Interviews and copious research expand this memoir into a history of San Francisco's kaleidoscopic post-Summer of Love era, and the cultural shifts her mother's craft nudged.
Meridy arrived in San Francisco from Wisconsin in 1975. Led by consultations with the I Ching and counter-culture friends, she soon succeeded in the pot-brownie business. She married Doug, a kindred spirit whose inventive art decorated the brownie bags (and introduces each chapter), and they had baby Alia. Unlike some "hippie kids," Alia was not neglected, and lovingly and hilariously recounts communal living, trips to northern California marijuana farms and her early understanding of the legal precariousness of the venture. She sat quietly through "Just Say No" classes, and she cellophane-wrapped brownies on weekends: "I knew how to keep a secret."
Volz meticulously documents the San Francisco of her youth--the rise of the gay liberation crowd and its violent backlash, the Gay Freedom Day that led to today's Pride celebrations, and the AIDS epidemic that inspired Meridy and other "Brownie Ladies" to provide cannabis comfort to the victims--eventually leading to passage of California's Compassionate Use Act in 1996. As of 2019, 46 states have enacted laws supporting medical marijuana, she notes. Home Baked was released on 4/20, the legendary marijuana celebration day. And, yes, it includes a recipe. --Cheryl McKeon, bookseller, Market Block Books, Troy, N.Y.