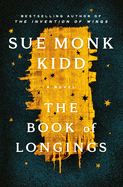 Sue Monk Kidd imagines that Jesus Christ had a wife, Ana, and The Book of Longings is her story. Ana doesn't appear in history, but provides illuminating context for the historical life and death of Jesus of Nazareth. Ana's chronicle is striking and woman-centered, as she declares, "I am Ana.... I am a voice."
Before she marries Jesus, Ana lives with her Jewish family in Sepphoris. Their wealth and literacy are rare; joining a poor family introduces the harsh realities of life under Roman rule. Jesus, who "put compassion above holiness," pictures God as a forgiving father rather than as a vengeful deity. Ana realizes that "God could be love, as Jesus believed." Jesus' preaching takes him away for months at a time. His absences allow Ana to maintain an independence that other women don't have. Her writing and meditation lead her to wonder, "What if my words could, like men's, prophesy or preach?" Ana's longing for agency is as passionate as Jesus' desire for a relationship with God, and as he faces crucifixion, she vows to be with him, saying, "I would go with him to the end of his longings."
Monk Kidd (The Invention of Wings) mixes historical and fictional characters, giving an engrossing portrayal of life during the Christian New Testament era. Christians and non-Christians alike will appreciate the well-developed characters and carefully researched settings. For fans of Anita Diamant's The Red Tent and Geraldine Brooks's The Secret Chord, here is an audacious and original historical fiction. --Cindy Pauldine, bookseller, the river's end bookstore, Oswego, N.Y.